About Bike Shelters
We provide a range of secure bike storage options and outdoor bike shelters, all of which offer quality and value for money. You will usually find these secure bike shelters at transport hubs, offices, schools, hospitals, apartments and flats.
Secure Cycle Store provide a full service, from the initial layout and design of the shelter, through to the supply and installation (if required). If you require any help along the way, you can chat with us online, or you can contact us.
Bike Shelters and Secure Bike Storage
Installing a secure bike shelter can turn an unused outdoor space into a convenient and useful area where cyclists can keep their bikes securely, protected from the weather. This helps to encourage cycling, which is both good for the user and the environment! It also encourages keen cyclists to stop and use the facilities when convenient bicycle storage is available.
This is why the requirement for cycling infrastructure is now standard practice for new developments or refurbishment projects in the UK. You will almost always find the requirement to provide secure bike storage facilities in planning requirements and transport plans for new developments in the UK. Outdoor cycle shelters are often an essential part of these secure bike storage facilities.
Bike shelter layout and design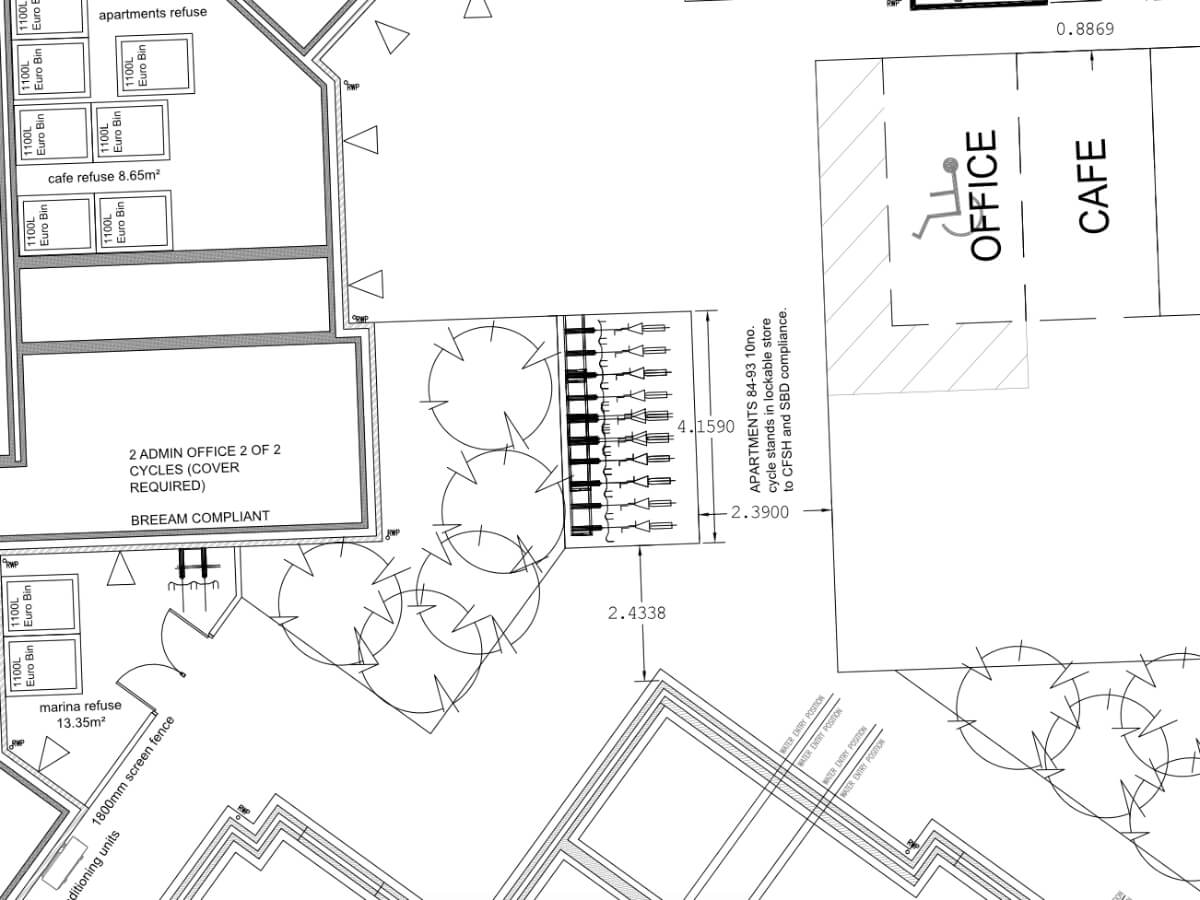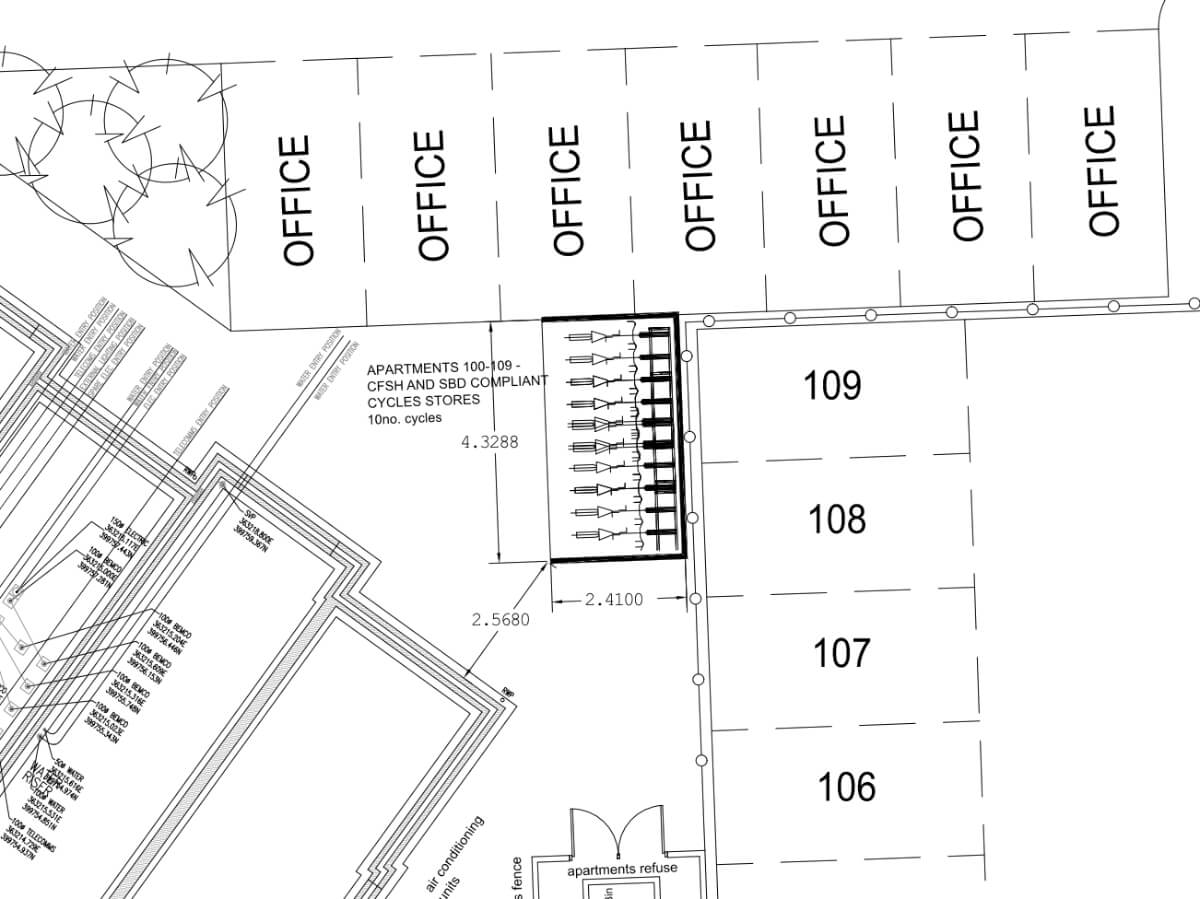 Do you have to store a number of bikes but are unsure how much space may be required? Or perhaps you have space allocated for a cycle shelter, but you are unsure how to make best use of it? If you have either of these questions or any others, then our team of experts are here to help. Since 2009 we have worked with hundreds of customers to provide accessible and secure cycle storage.
We have a range of shelters and canopies available in different sizes, typically ranging from a bike shed for 4 bikes or up to cycle compounds of 20 or more bikes. Our shelters are available in finishes including different coloured powder coated frames, and have cladding options including security mesh, perspex (PETG) and timber. Further options include the inclusion of bike racks, ground anchors, swing or sliding doors, door locks and lighting.
We are also able to provide bespoke bike shelters for you if there is something special or slightly different that you are after.
Secure Bike Storage with Bike Racks
All of our bike shelters are available with optional bike racks built-in. Adding a bike rack to your cycle storage makes the shelter easier to use, and better organised. Cycle racks, such as the semi-vertical cycle rack, save space and have multi point locks for bikes making them even more secure.
Secured by Design (SBD) Bike Storage Requirements
If your bike shelter is for a new build construction site, then you may be required to meet SBD guidelines as part of your planning approval. This is often designated as a 'secure bike store' or 'secure cycle store' on layout plans and transport plans. Secured by Design requirements were updated in 2019 and provide guidance to the construction specification to help improve bike storage security and reduce theft.
With regards to cycle shelters, the current SBD criteria states;
'External, open communal bicycle stores with individual stands or multiple storage racks for securing bicycles will be as close to the building as possible, but in any event within 50 metres of the primary entrance to a block of flats and located in view of active rooms (Note 56.3) of dwellings. The store must be lit at night using vandal resistant, light fittings and energy efficient LED lights. '
It also refers to Sold Secure locks and ground anchors, or bike racks and stands with multi-point locks as to increase bike security.
Planning portal cycle parking standards
The government no longer specifies cycle parking requirements and instead has pushed standards back to regional/local planning level. However, based upon previously published guidelines, it states;
| Planning use class / type | Cycle parking standard |
| --- | --- |
| Class A1: Retail (food and non food) | 2 cycle spaces per unit or 1 cycle space per 500sqm, whichever is greater |
| Class A2: High street professional or financial services | Minimum of 2 cycle spaces per unit |
| Class B1: Business (office and call centres) | Minimum of 2 cycle spaces per unit or 1 per 20 staff, whichever is greater |
| Class B2 & B3: Light Industrial and General Industrial | Minimum of 2 cycle spaces per unit or 1 per 500sqm, whichever is greater |
| Class B4: Storage or Distribution | Minimum of 2 cycle spaces per unit or 1 per 1,000sqm, whichever is greater |
| Class C2: Guest Houses | Minimum of 2 cycle spaces per unit |
| Class C3: Residential Institutions | 1 cycle space per 10 staff |
| Class D1: Nurseries | Minimum of 2 cycle spaces per unit |
| Class D1: Schools & Further Education | 1 cycle space per 10 students |
| Class D1: Public Facilities (Libraries, Galleries, Museums) | Minimum of 10 cycle spaces per unit |
| Class D1: Health Centres (GP, Dentists, Vets) | Minimum of 2 cycle spaces per unit |
| Class D2: Assembly and Leisure (Theatres, Cinemas, Bingo Halls, Concert Halls) | Minimum of 2 cycle spaces per unit |
| Churches | Minimum of 10 cycle spaces per unit |
| Sports stadiums | Minimum of 10 cycle spaces per unit or 1 per 50 seats, whichever is greater |
| Football, Hockey etc pitches | Minimum of 2 cycle spaces per pitch |
| Sports & Leisure centres, & swimming pools | Minimum of 10 cycle spaces per unit |
| Golf courses & marinas | Minimum of 5 cycle spaces per course |
| Hotels | Minimum of 2 cycle spaces per unit + 1 per 30 beds |
| Bars, restaurants, cafes | Minimum of 2 cycle spaces per unit |
| Car showrooms and petrol filling stations | Minimum of 2 cycle spaces per unit |
The planning portal guidelines also state that a cycle space should normally be designated as 2,000mm long by 600mm wide and it promotes the use of cycle racks and cycle stands to facilitate the bike storage facilities.
Bike lockers
We also provide a range of bike lockers that are often used with our shelters, providing a convenient place for cyclists to store the bike helmets and gear. Many users find this an extremely useful facility and it encourages users to use their bike more!
Bike shelters for the home or garden
If you are looking for a bike shelter to store your bike at home, you should check out our wooden bike sheds or our cycle protection boxes. Bike storage sheds are a great addition to any garden, providing a secure place to store your bike and your tools or other garden equipment. Cycle protection boxes or storage boxes are a more secure and compact storage solution.
Bespoke Bike Shelters
Whilst you can see different designs of our cycle shelters above, we can make a shelter to your exact specification, if required. For example, if you want a bicycle shelter that matches your building's aesthetic, we can fabricate a custom shelter to do just that.
Bike shelter supply
We supply our bike shelters nationwide and our operations team have extensive experience in the supply chain and logistics for both existing sites and new build construction sites.
Secure Bike Shelter

Installation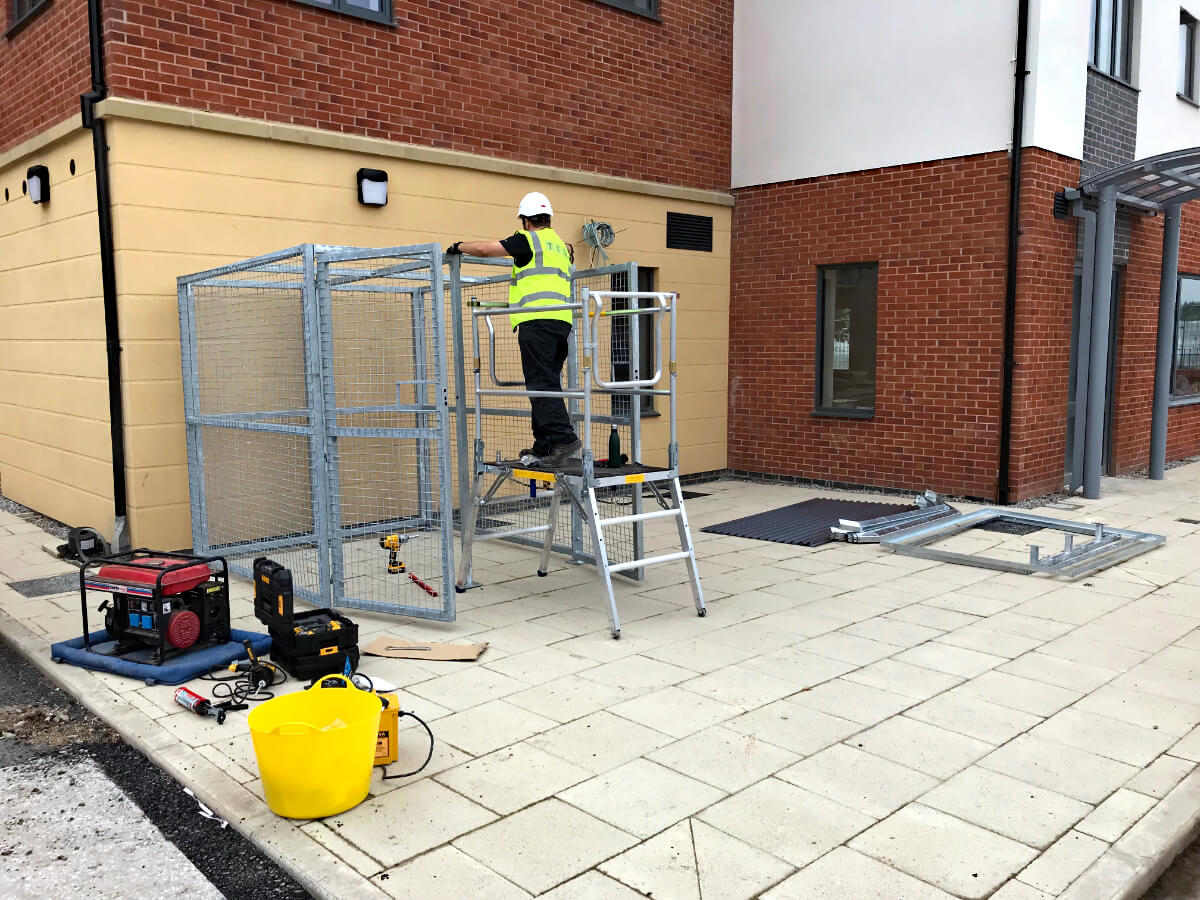 Our team of installers have completed hundreds of secure bike storage installations nationwide. Our bike shelter installers have all of the necessary health and safety training including CSCS cards to work on your building site. We are members of Construction Line, Builders Profile, CHAS and SMAS.