Public Bicycle Repair Stands – Making Cycling Easier for All
When asked why they do not use a bicycle on a regular basis, one of the most frequent responses can be the cost burden and hassle of maintaining it. Maintenance does not have to mean major mechanical work; it can be as simple as tuning gears, tightening bolts, or re-inflating tyres—these are all jobs that are easy enough, with the right tools…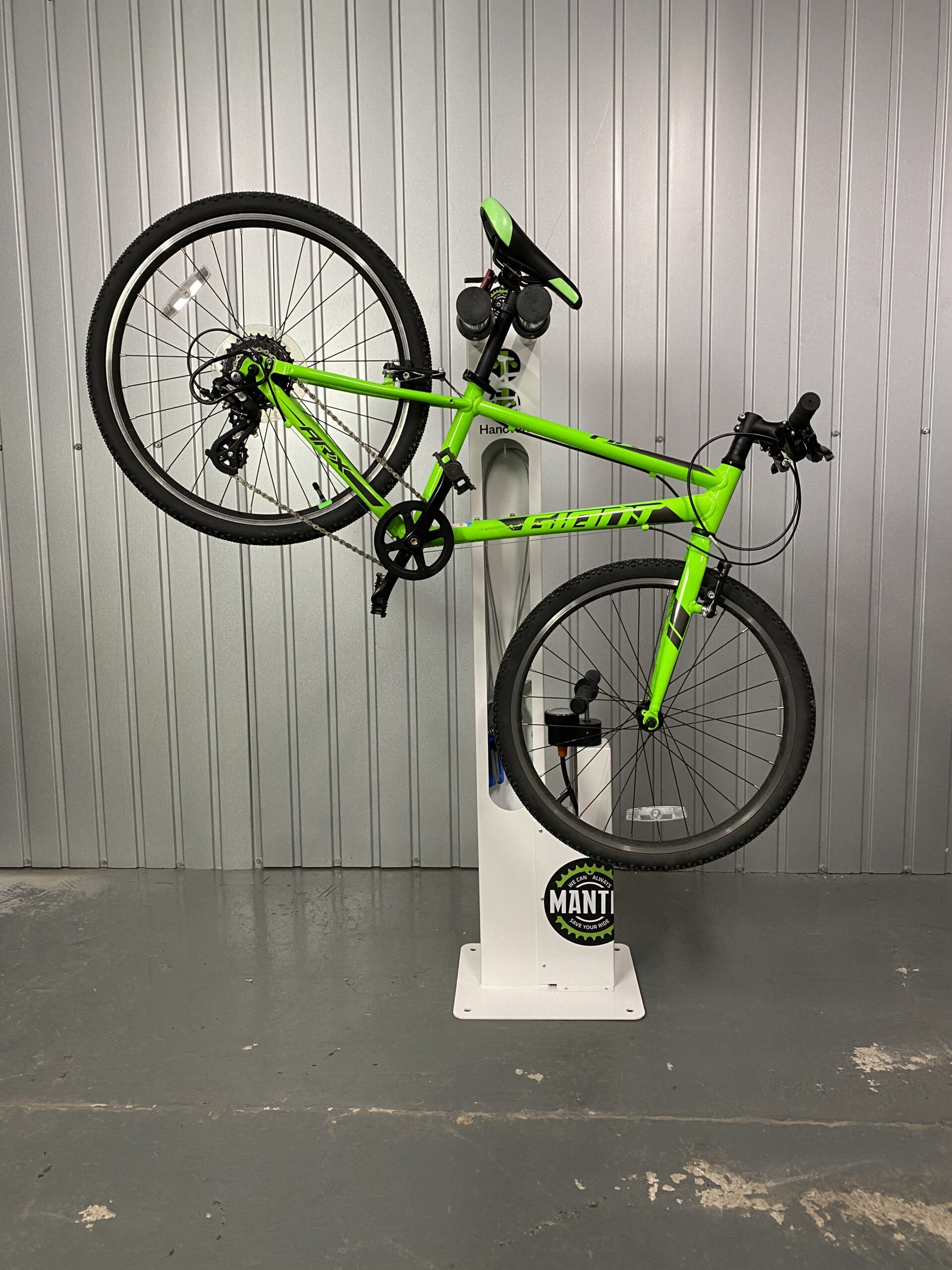 Public bike repair stands with pumps are one of the easiest ways to overcome this restrictive hurdle in bicycle ownership. A street-side repair stand can supply excellent quality tools and a floor pump for public use; making it easy and efficient for local riders to keep their bikes in working operation.
Quick and Easy Bicycle Maintenance
We have all been there… flipping a bike upside down on the pavement to remove wheels or adjust the gears; struggling with an inefficient miniature hand pump to try and repair a puncture on the way to work; or experiencing that disconcerting wobbly feeling because your saddle or handlebars have worked their way loose. The public bike repair stand is designed to eliminate these headaches—as the Secure Cycle Store slogan goes 'Mantis – We Can Always Save Your Ride'.
With its integrated bike stand, the Public Bike Repair Stand With Pump from Secure Cycle Store allows you to lift your bike off the ground and conduct essential maintenance at a convenient height.
The integrated tools include all the spanners, screwdrivers, hex-keys, and tyre levers you could need for most bicycle repairs—all made by the industry-leading brand Unior Tools. Every tool is attached to the galvanised steel repair stand with plastic-coated stainless-steel wires, and there are simple instructions to help you use them printed on the stand itself. When a user has finished with a tool it naturally hangs inside the stand—keeping it out of the weather and in good condition.
To keep your tyres rolling smooth, the Public Bike Repair Stand features a top-quality SKS AirWorx 10.0 Floor Pump integrated into the stand. This easy-to-use pump will make effortless work of inflating even mountain bike tyres up to their recommended pressure; allowing commuters and leisure riders to get back on the streets as fast as possible.
Worth More Than the Sum of Its Parts
A public bicycle repair stand is worth more than the sum of its parts. Placed next to a busy cycle commuting street or weekend leisure cycle path it can ensure that commuters, families, and cycling clubs have a fast and convenient way to keep their bicycle in good rideable condition. Placed inside a train station it can provide the prime opportunity for cycle-rail commuters to tune up their bikes as they wait for the train.
Wherever you install one, you can be sure a repair stand will help facilitate safer and easier cycling for all that make use of it.
Repair Stands That Are Built to Last
Not all bicycle repair stands are made equal. The Secure Cycle Store Bicycle Repair Stand With Pump is made from the highest-grade metals, and with tools that are professional level quality. For a product that is out in the weather all year round and that you anticipate having almost continuous use, this level of build quality is essential.
A bicycle route, bicycle park, and of course the bicycle itself are all intended to be investments in sustainable infrastructure and transport; so, ensuring your public bicycle repair stand is also up to the rigours of everyday outdoor use, year-after-year, is fundamental.
Invest in Sustainability
A public bicycle repair stand is an investment into sustainable growth. It offers the convenience and reliability that cycle commuters and leisure riders demand for them to feel confident in making the switch from other transport methods towards bicycle usage.
A high-quality bike repair unit will last for years and could help hundreds of thousands of cyclists keep rolling in comfort and safety.
Other articles:<
Bike Storage for Your New Home
»